Chris King Memorial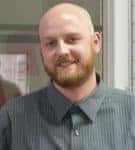 It is with great sadness that we announce the loss a great member of our service department team, Chris King. He had been with the organization since 2014, and was one of the top service advisors in the company. Chris was a beloved member of the Tom's service team, and was one of the great personalities in the building. He put in long hours, and was willing to help the company to the best of his ability. Everyone knew Chris was a hard, diligent worker, but he was also a great friend.
Chris started out with our organization, when we had the Kia Depot dealership, and when the opportunity arose to move over to the Tom's Truck side of the business, he was excited for the change.
Chris was passionate about cars and motorcycles. He had many different vehicles, from Harleys and Cadillacs, to pickup trucks and hot rods. He was always talking about car shows, and new deals he found on the internet to fix up. You would almost forget how young Chris was, only 28, if it weren't for his energy. He was always upbeat and enthusiastic.
Services were held for Chris on December 22nd at Hilgenfeld Mortuary in Anaheim, CA.