Exciting Times for the Used Truck Department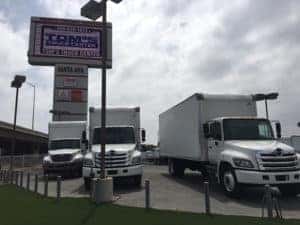 For many years, new trucks were the focus of the Tom's Truck Center organization when it came to truck sales, and although we've always had used trucks, the inventory was fairly small.  However, we realized that we were underserving a very large portion of the truck buying market – those that purchase pre-owned trucks instead of new trucks.  With the thought process shifting, it has brought a new energy to the used truck sales department.  For those of you that prefer purchasing new trucks, no need to worry, we still offer a large variety of new trucks and now even offer many of them pre-built with bodies!
We currently have 59 used trucks in inventory, which is a substantial increase over our inventory from just a few months ago.  We continue to seek out fresh inventory on a daily basis, and only buy high quality used trucks at the right price.  Our used truck personnel has grown as well, with the hiring of Jason Taber and Leslie Smiley.  Jason comes to us with 20+ years of commercial truck experience and is very well connected in the industry, and with his hiring it has allowed us to put a dedicated full-time used truck buyer in place.  That buyer is Hayley Elliott, who spends her days searching for the best inventory to offer our customers.  Leslie Smiley has been working in automotive for a handful of years, and brings her F&I experience to the used truck sales department.  In addition, we will be hiring additional used truck sales staff to accommodate our growth, but we currently have 4 great sales people in place focused on putting customers in the best used trucks available.
We are excited to re-establish ourselves as a used truck source, and are able to offer our customers two great locations to buy used trucks from.  Both dealerships are situated right off of the I-5 freeway, with Tom's Truck Center in Santa Ana and Carmenita Truck Center in Santa Fe Springs.  Both stores will have a variety of used inventory on the lot, and staff at each location that are experts on that inventory.
With the changes in staffing and inventory, we have seen a lot of growth in a short period of time, and plan to continue on the path of incremental and sustainable growth moving forward.
For any of your commercial truck needs please reach out to us at 562-921-1411 or 800-638-1015.