Fuso's First Gas Work Truck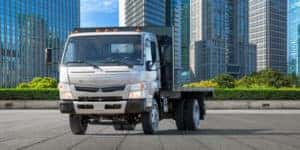 In late October, Mitsubishi Fuso began to ship the FE 180 Gas truck to dealerships nationwide. This is an industry-first gasoline-powered cabover Class 5 work truck.
There has been such a demand for an alternative to diesel-powered trucks, so Fuso developed the new Class 5 gas model. The truck offers power (a GM V8 6.0L engine), a greater payload capacity (17,995-pound GVWR), and a smoother drive (an Allison 1000 Series transmission). With this superb combination, drivers will get more horsepower and torque for their rides.
The Fuso FE180 Gas is on the road right now. Customers will see the truck at dealerships across the United States and Canada in the coming months. If you would like more information about the Fuso FE180 Gas, please give us a call at 1 (800) 638-1015.