Isuzu's New Fleet Value Seats!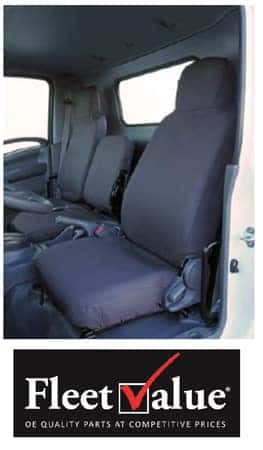 Asking why you should get seat covers for your rig is like wondering why regular dental checkups are a good idea. You may be able to skate by without them for a while. But in the end, the damage you've sustained is that much harder to correct. Instead of a filling, now you get to suffer through a root canal. Luckily, preserving your car seats is totally pain-free and a heck of a lot easier than even the simplest act of oral hygiene: brushing your teeth.
Isuzu Commercial Truck of America recently announced that there is now a choice for seat covers! They have expanded their inventory of FleetValue parts and it includes select Commercial Truck Seat Covers. FleetValue Commercial Truck Seat Covers meet or exceed Isuzu's strict guidelines and performance standards. Their Commercial Truck Seat Covers are affordable and reduce cost of ownership.
Plus, customers earn all the benefits normally received when ordering parts from AIPDN: stock order discount, obsolescence allowance and co-op funds. Isuzu continues to offer Genuine Accessory Seat Covers for those demanding customers requiring original equipment parts.
These seat covers are made from polycotton material for maximum durability that resists UV damage, spills, mildew and stains. They are available for first and second row seating with an easy to clean, custom fit that doesn't slip.
Isuzu's FleetValue parts come with a one year limited warranty and include all the benefits that are normally given when ordering parts from AIPDN. While FleetValue products are of high quality, they are NOT original equipment. Therefore, they cannot be used for vehicle warranty repairs.
For more information on these new seat covers, or any parts related