Meet Dylan Meints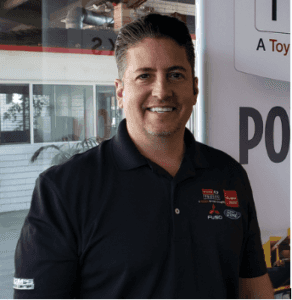 Work Related
How long have you been working at Tom's and what is your role here?
I have been at Tom's for a little over 2 years. And I am a Commercial Account Manager.
What did you do prior to working for Tom's Truck Center?
I was in the loan business, and before that I was in the printing business.
What do you like best about working at Tom's Truck Center?
The fact that I can run my own business in my territory with the opportunity to make as much money as I want.
What do you like most about working in sales in general?
I enjoy sales and helping customers grow their business. And of course, "The close"
Goals that you have reached with Tom's?
I have closed a few multi truck deals.
What is the best advice someone has given you for succeeding in sales?
Listen. Always listen.
What is one important skill that you have acquired at Tom's?
I have acquired the ability to build a truck from scratch!
Life Related
Favorite hobbies or activities?
I like to go to the gym, cycling and playing golf.
How would you spend $1 million?
I wouldn't, I would save it. Well, after I bought an M4 and a house.
Favorite sports teams?
I am a huge Lakers, Angels, 49'ers fan.
If you could live anywhere in the world, where would it be?
Easily, it would have to be Italy.
What is the best vacation you have ever taken?
That's a tough one. But I would have to say when I went to Turks and Caicos.
What piece of technology could not work without?
iPhone. It's a portable computer!
What would you do with "15 minutes of fame"?
Hang out with Brad Pitt.
If you could stay a certain age forever, which age and why?
I would be eight again. Not a care in the world and riding BMX bikes all day!
Any funny sales stories?
Too many to say, really.
Worst pet peeve?
People that don't know how to drive correctly.