Meet Matt Stone!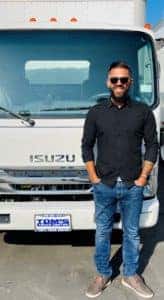 We like to interview a different staff member once a month, to get to know a little bit more about them, and to share it with our customers!  This month, meet our Service Manager, Matt Stone!
Work Related 
How long have you been working at Tom's and what is your role here? 
I have been working here at Tom's as a Service Manager for just over a year now.
What did you do prior to working for Tom's Truck Center?
I worked as an Operations Manager for Parts and Service.
What do you like best about working at Tom's Truck Center?
Definitely the support given by the VP's and the ownership.
What do you like most about working in the service department, specifically?
I would have to say my team and getting to work alongside them each day.
Goals that you have reached with Tom's?
I broke records for most hours worked in a month, which increased our sales.
What is the best advice someone has given you for succeeding at work?
Support your people, and they will support you!
What is one important skill that you have acquired while at Tom's?
One of the most important skills I've learned, is that for any one person or department to grow and reach new levels, you need to adapt or improve communication skills both externally and internally.
Life Related
Favorite hobbies or activities?
I love being outdoors and spending time with my family. Activities ranging from watching movies with my kids on Friday nights, to going on my Sunday morning hikes.
How would you spend $1 million?
I would take out a quarter of it to invest, then use the rest to buy my family and I a new home.
Favorite sports teams?
The Chiefs and The Golden State Warriors.
If you could live anywhere in the world, where would it be?
I don't think I could choose just one place. I'd have to say anywhere and everywhere I could go. I love the idea of traveling, getting to see and experience the wonders of different places around the world.
What is the best vacation you have ever taken?
This was more of a long weekend trip than a vacation, but my family and I went all around California. We traveled to places like Death Valley, Lake Tahoe, Redwood Forest, San Francisco, and a few other places. Overall, it was a wonderful and very memorable trip.
What piece of technology could you not work without?
I think for this one I'd have to say my computer because it's what I do all my daily work on.
What would you do with "15 minutes of fame"?
Honestly, I wouldn't want it. I prefer to help get others into the spotlight rather than stand in it on my own.
If you could stay a certain age forever, which age and why?
I would stay 23, because at 23 you may be an adult but in most cases the list of responsibilities is much shorter than that of one for a man in his mid-thirties. 
Worst pet peeve?
Not having a drive, having a "I should quit, and give up" mentality for life, work, etc.…
Along with those who say "can't". You just need to remind yourself of what you're fighting for, because I firmly believe anybody can be somebody if they try.
Do you have any funny sales stories?
This story isn't necessarily funny, but it has stuck with me since the day it happened.  Back when I was a sales manager for Freightliner, I went to a gas station just before going into work. I started a conversation with a man who had a large garbage truck just outside the gas station. While this conversation was happening another man approached me when he overheard a few things about what I did for work. He and I spoke for a bit before I gave him my business card. I thought nothing of it again and went into work just like any other day, until later that day when I had received a phone call from the same gentleman.  After speaking with him a little while longer I ended up selling him 5 freightliner M2 106's. From that day on, for the course of the next four years, I sold him over 300 trucks! It still makes me smile to this day and genuinely shows that you never truly know who's possibly listening and what opportunities could be waiting just around the corner from you.