Meet Mike Halsne
Mike Halsne has been with us for many years in the Tom's service department! We asked him a few questions to get to know him a bit better. Read below!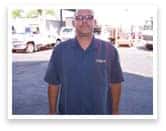 1. How long have you been in the truck industry? 24 years
2. Have you always been in service? Other professions? First started here working in the salvage dept. Before that I was in the lumber industry
3. What do you like about working in service? Working next to Tony.
4. What is your role here at Tom's? Service advisor—sales
5. How long have you been at Tom's? 24 years
6. What do you like best about working at Tom's? Best perk? The challenges that come along with sales and working technicians
7. Service goals that you have reached? Beating OJ for sales year to date.
8. Any upcoming sales or deals? Working on some. Our deals are quality service
9. What is the best advice someone has given you for succeeding in service? Try and keep humor in the whole process.
10. What is one important skill that you have acquired at Tom's? Patience
11. What piece of technology could not work without? My pen.
12. Favorite hobbies or activities? I love watch my kids play sports. My wife and I spend most of our free time doing so.
13. How would you spend $1 million? Invest in real estate.
14. Favorite sports teams? Pittsburgh Steelers
15. If you could live anywhere in the world, where would it be? Well if could live anywhere in the world I would have money so lets say Beverly Hills
16. What is the best vacation you have ever taken? Hawaii
17. If you could host a talk show, who would be your first guest? Donald Trump
18. What would you do with "15 minutes of fame"? Fund raise for childhood cancer cures.
19. If you could stay a certain age forever, which age and why? Late 20's , by them I should be wise , educated and making money.
20. If you had $1,000 to spend at one store, which store would you pick? Amazon
21. Any funny sales stories? None I can repeat.
22. Worst pet peeve? Ignorance.