Meet Tim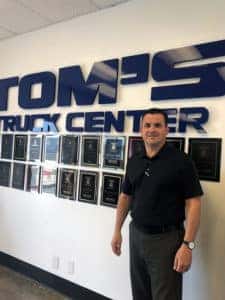 Work Related
How long have you been in the truck industry? 2 Years but in Vehicle sales 20 years.
Have you always been in sales? Other professions? Yes, Retail car sales
What do you like about working in sales? Passionate about helping customers find solutions to their needs. You never have the same day in sales. Always feels new and fast paced.
What is your role here at Tom's? Director, Sales
How long have you been at Tom's? 6 plus years
What do you like best about working at Tom's? Best perk? I have always loved the comradery and synergy of this organization. I feel we are all invested in each other's success. I feel my efforts are never overlooked.
Sales goals that you have reached? Constant improvement. I feel we have positioned ourselves for success as we move forward.
Any upcoming sales or deals? Yes, many. A big account that is very close.
What is the best advice someone has given you for succeeding in sales? When I knew this is what I wanted to do I asked my sales manager what it took to be successful in sales. He replied, "that's easy… do what others are not willing to do". There are many things in sales that you must do to be successful, but this was the best advice I have ever received. I simply outworked them all. Most sales people were not willing to go the extra mile. I wanted it more than they did.
What piece of technology could not work without? It is a tie with a smartphone and Thinh.
Life Related
Favorite hobbies or activities? Tinkering, staying busy. Working on motorcycles and boats with my kids.
How would you spend $1 million? Invest
Favorite sports teams? Rams
If you could live anywhere in the world, where would it be? Right where I am at.
What is the best vacation you have ever taken? The entire family did a two-part vacation in Las Vegas and Mexico.
If you could host a talk show, who would be your first guest? Michael Jordan
What would you do with "15 minutes of fame"? I would give it to someone else.
If you could stay a certain age forever, which age and why? 29, not to young and not too old.
If you had $1,000 to spend at one store, which store would you pick? Fry's Electronics
Any funny sales stories? Too many to list but one of my favorites is when I had a customer that whistled through his teeth when he talked. I showed him a truck and he would say, "Tha'S niCe". Put the whistle on the capital letter and you get the idea.
Worst pet peeve? A salesperson with talent and no desire.