Mitsubishi Fuso: Quality parts, value price.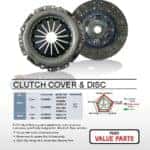 Mitsubishi Fuso has launched a new parts program that will help truck owners save more on parts: Fuso value parts program. OEM parts can add up in no time at all, and now they have a solution that is easier on the wallet.
The Fuso value parts program offers quality aftermarket parts for an affordable price. OEM parts can be replaced and repaired with minimal costs if they are under their manufacturer warranty. But what happens when that warranty ends? This is where the value program can save you big dollars.
The parts in this program are authentic to Fuso, and are constructed with the highest quality, rivaling that of their OEM parts. They are certified and approved by Mitsubishi Fuso Truck and Bus Corporation (MFTBC), and ensure reliable operation under the everyday work rigors.
If you need new Fuso truck parts, ask about the Fuso value parts program. Excellent parts at affordable prices, available at Tom's & Carmenita Truck Centers!