Plumbing Trucks: What to look for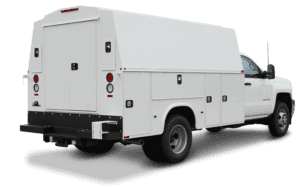 Are you in the market for a new plumbing truck?  Have no clue what to look for?  There so many companies that offer numerous body styles so the process becomes complicated.  We are going to break down some basic steps of what to look for in your next truck, and take the stress out of the equation.
Application and body style
One of the first steps in looking for a plumbing truck is to know how you are going to use it, because that will narrow down possible options. Can you use a utility pickup that has an open bed, or do you need a van style with a closed work area?  Are you going to haul large piping supplies, or haul a trailer?  These are the questions that you need to ask yourself so you can choose the right style of work vehicle that fits.
GVW
Gross vehicle weight refers to the maximum amount of weight, including passengers, that a truck can haul.  Plumbers have hundreds of pounds of tools that are needed on every job site to successfully complete a job.  Some jobs require you to haul pipes and other materials, and you need your vehicle to handle that total load.  If need a vehicle that falls into that category, you will be looking at diesel options that can handle the large loads.
Cargo access needs
Tool boxes and cargo will be loaded and accessed through different means depending on the body style that you have chosen.  A utility pickup has an open concept with racks that can handle pipes and various loads on top, and have lockboxes on the sides that can house all your tools.  A transit cargo style van can fit all your tools inside and has the possibility of converting to a work station as well.
Still have questions about buying a new work truck?  Give us a call at 800.638.1015 and one of our salespeople can answer all your questions and give you a test drive.