Tom's Service Center: Diagnostic Check-ups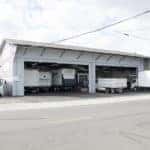 Is your commercial truck driving inconsistently? Has your dashboard lit up with "check engine" or "ABS Brake" lights? You can only ignore those lights and signals for so long before it's time to take your vehicle in for a diagnostic check-up. Bring your vehicle to Tom's service center for a full diagnostic check-up and inspection.
Your vehicle has an on-board computer that regulates multiple systems and stores codes when systems fail. When you come to Tom's, we hook your vehicle up to our computer systems, and retrieve all the data points. Our computers scan all the components, run electrical and mechanical tests, and our technicians will perform visual inspections if anything looks off.
There are numerous reasons why your truck's dash will signal an issue, and sometimes basic component failure can mislead many technicians. Technicians can recommend unnecessary part replacements that can add hundreds of dollars to a service bill. Tom's technicians pinpoint and verify that any work done on your vehicle is completely necessary, and will keep your vehicle on the road longer.
Our qualified technicians and advisors are waiting for your next service appointment!