Tom's Service Center: Quality service, minimal down time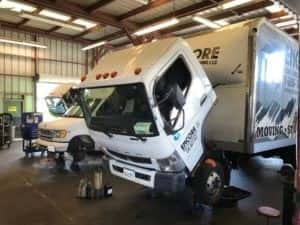 Every time your commercial truck is off the road for repairs, you are losing opportunities to make a profit for your business. Our goal at Tom's service center is to provide a quality service solution in the shortest amount of down-time, so you are not losing profitable days.
We can service your vehicle, top to bottom, and no job is too big or too small, for our technicians. We can run full diagnostics, brake repair, lift gate repair, cooling systems maintenance, transmission repairs, and anything else your truck would need. Is it time for your annual DOT inspection? Do you need a DPF cleaning? We can assist you with those as well!
Tom's service center has award-winning advisors and technicians that work six days out of the week, and are willing to provide a total service package that pertains to your commercial truck. We will not recommend a service that your truck doesn't need.
We specialize in Isuzu, Hino, and Mitsubishi Fuso trucks. However, if you have a different branded truck, we have the expertise to repair those trucks as well.
Ask our service advisors about our Superior Maintenance Service (SMS) program! It is a 24/7, 365 days a year mobile repair service. If you don't have the time to make the commute to our center, we can have our technicians come to you.
Give us a call at 800.338.9161, and our advisors will be ready with a service package geared to you!