Tom's Service Center: Tony Savic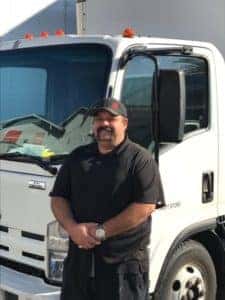 Tom's Service Center is one of the best commercial truck service centers in the industry, and a big part of that success is the strong team built around Tony Savic. He has shown great leadership, and his team has had a great response, outperforming previous work metrics. We have all seen Tony around the shop, and now we are going to get to know him a little better.
Work Related
How long have you been in truck service?
I have been in this industry for 21 years.
Have you always been in service? Other professions?
Yes, I have also restored furniture my whole life with our family business. 
What do you like about working in service?
I enjoy the challenge of taking care of trucks that some shops cannot undertake.
What is your role here at Tom's?
I am Tom's Service Manager.
How long have you been at Tom's?
I have been at Tom's for 21 years, more than half of my life.
What do you like best about working at Tom's? Best perk?
The people here are the best part, and the best perk.
Service goals that you have reached?
As a department, we are surpassing our goals and always creating new metrics.
What is the best advice someone has given you for succeeding in this industry?
We never stop learning, something new is always coming up. Technology is moving so fast in our industry that a company cannot afford to stand-still.
What is one important skill that you have acquired at Tom's?
Problem solving.
What piece of technology could you not work without?
The internet …there is so much information at our fingertips.
Life Related
Favorite hobbies or activities?
Restoring antique cars.
How would you spend $1 million?
I would either spend it on vintage cars, or take another family vacation.
Favorite sports teams?
I am not really into sports but the Cleveland Browns…my home town.
If you could live anywhere in the world, where would it be?
Right here in California; we have the best of everything here.
What is the best vacation you have ever taken?
I took my parents to the villages in Serbia and Croatia where they grew up. It was great to share that experience with my parents.
If you could stay a certain age forever, which age and why?
Mid 20s.  Anything was possible!
If you had $1,000 to spend at one store, which store would you pick?
It would all go to antique car parts.
Worst pet peeve?
Ignorance.