Used Trucks: Ways to utilize a flatbed truck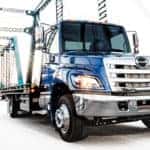 When companies are looking to purchase a commercial vehicle, one of the major deciding factors is how universal the vehicle can be on a job site. No company wants to load a work site with trucks that only have one use or have to bring multiple vehicles to handle a single job. So which truck has the most vocational uses? A flatbed truck!
A flatbed can be used to haul heavy equipment and materials that a pickup or van cannot handle. It also helps when the objects have an irregular shape, such as sheet rock or rebar. This can help companies in landscaping and construction vocations.
A flatbed truck can also be utilized in a towing capacity as well. Some flatbed trucks have lift capabilities that can aid in towing of standard or oversized vehicles. If a flatbed is not already outfitted to handle towing, Tom's Truck Center has all the necessary attachments to make the truck road ready.
Some companies need customized equipment built onto their truck, and a flatbed has plenty of canvas for customization. A company can add utility boxes, hitches, and even a crane. The possibilities are endless.
Tom's Truck Center has pre-owned flatbeds that are road ready. Give us a call, and our salespeople can find the perfect flatbed to fit your vocation!